Here how to play hidden Chess game in Facebook Messenger
|
Have you ever played a chess game while chatting? No? Now you can, and facebook has a fully functional Chess game in its chat messenger and anyone can play.
You can start, play, move, undo, reset and do whatever you need to play the game. All you need to do is to send a special keyword to start and play the game.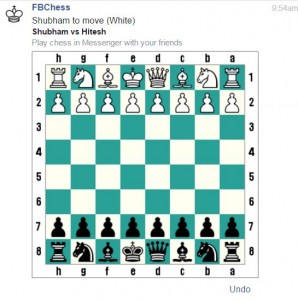 Unfortunately, it is not a drag drop game so you need a set of commands to and here is a basic list of commands you need to kickstart your game-
To start the game –
To start the game open a chat window with that person and write @fbchess play. It will launch the game with random colors.
You can choose your color also by typing @fbchess play black or @fbchess play white.
To make a move –
The commands use Standard Algebraic Notation; in layman's terms, this means that P is pawn, N is knight, B is bishop, R is rook, Q is queen and K is king. To move a pawn from the starting position, for example, you'd type "@fbchess Pb4".
Some other basic commands are –
To claim a draw : @fbchess draw claim
To Offer a draw in the current position: @fbchess draw offer
To offer an undo of the last move: @fbchess undo
To start the game again and redesign it : @fbchess resign
To show current position: @fbchess show
To show stats between current players: @fbchess stats
To continue a game from another conversation: @fbchess continue
Note :- And if you stuck anywhere then @fbchess help is your command.
Now just play and share your experience. 🙂
Recommended -