Now book OLA or UBER directly from Google search
|
Now it has become easy to compare the prices and book OLA or UBER directly from the Google search itself.
Google has now announced that commuters would now be able to book cabs from Ola and Uber directly from the search and not only booking they can compare the prices to find the best fit for their need. For this, you either need Google search application or the mobile search browser(this will not work your laptops or desktops).
Previously Google Maps were featured with the option of booking Ola or Uber in India, and now, this is being extended to the mobile search bar itself.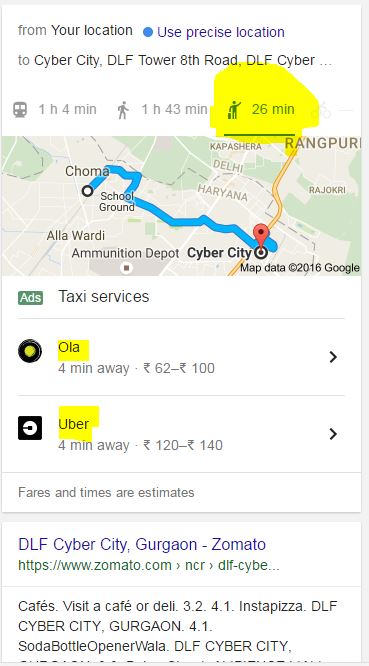 As shown in the pic above Google will provide the option of the available cab, its estimated price and expected waiting time.
So in case you search for "way to Cyber city Gurgaon"  and select the last highlighted option on the available options then you will be provided with the options of both the cab providers and their charges along with the time.
Once you try to book it will redirect you to their app and if the app is not installed then Google will provide the link to download the app directly from its search engine.
This latest update in the Google search engine will not only make it easy for travelers to book a ride but it will make life easier by comparing their prices and provide other relevant information at a single point and user need not go to both the apps enter the travel details and check.
Don't forget to share this amazing news with your loved ones. This might save them data, time and money when in need. 🙂
Recommended -